Get painlessly circumcised in less than 40 minutes in the office under local anesthesia
Adult Cosmetic Circumcision
There is a saying that "half of the world are circumcised, the other half are not". This is probably true.
Getting circumcised often is associated with baby boys. However, many people are surprised to learn that adults can request the procedure, either for recurrent infections, pain with intercourse, large genital warts, phimosis (inability to retract the skin due to tissue scarring). Dr. Tajkarimi performs both newborn cosmetic circumcision and adult circumcision in the office setting. He also offers adult circumcision at the hospital or surgery center if there is a clinical indication or insurance covers the procedure. Insurance does not cover adult cosmetic circumcision for non-clinical indications.
Dr. Tajkarimi performs multiple office adult circumcisions per week under local anesthesia and nitrous analgesia in his state-of-the-art office operative suite. Patients are awake and feel no pain. Many travel from around the country by plane through Dulles International airport (10 minutes from our office) and catch the flight back to their hometown several hours later. Many are preparing for the Penuma Male enhancement implant. The procedure takes about 30-45 minutes. Dr. Tajkarimi has perfected this method.
Most men take tylenol for pain for 3-4 days and return to normal activities after 3 days. The skin will heal perfectly after 3-5 weeks.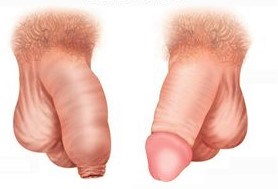 If you wish to have office cosmetic circumcision by Dr. Tajkarimi, we can offer a complimentary virtual consultation. Contact us at info@novaurology.com or call us at 703-687-3601 for details and pricing.
CONTACT US
44055 Riverside Pkwy #208,
Leesburg, VA 20176
(703) 687-3601
Schedule a free consultation with us,
and discover a clinic where achieving true beauty
defines how we perform every treatment.